Sherri Voigt, CGFM, CPA
Welcome to 2018!
Our January 25 lunch meeting is the Annual Tax Update. Sarah Loose from Baker Tilly Virchow Krause will be covering any changes for the 2017 tax year, and covering some highlights of the recent tax acts that will impact the 2018 tax filing season.
We will collect items for the Salvation Army at the January lunch meeting.  Commonly needed items are:
Adult T-shirts
Diapers – All Sizes (5 & 5 needed most)
Baby Bottles
Sanitary Items
Men's deodorant
Diapers are a wonderful item to donate to families in need.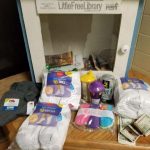 The AGA Southern Chapter continues to support the Salvation Army Shelter and Community Center. Thank you AGA members and non-members for all of your wonderful support, it is greatly appreciated.
Our audio conference schedule for the year kicked off in December. Check out our calendar of events for the upcoming dates. These are 2 CPE each, and are free to members.
Planning and scheduling has been taking place for the Annual Symposium. There are some great topics lined up and a training brochure will be ready next month.
Mark your calendars now: Wednesday, May 9, 2018
UW-Madison Union South
We are always looking for topic and/or speaker ideas for lunch meetings and training sessions. If you have any ideas to share, please reach out to our Education Chair, Mary Laufenberg, at maryendres6998@gmail.com
Sherri Voigt, CGFM, CPA
🐱 =^..^=